Going To School In A Pandemic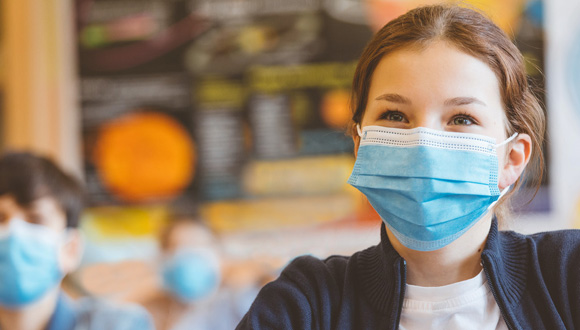 Covid-19, also known as Coronavirus, has swept through the world and caused drastic changes. Before March, our life was normal. We went to school every morning, and we didn't have to worry about being six feet from each other, or if we remembered to grab our mask before going out. Now, things are different. Covid has changed how we get our education. Whether it is e-learning or hybrid learning, school isn't the same as it used to be. 
    Back in the spring, it was clear: going to actual school was not safe to do yet. But, now a lot of schools are considering going back to in-school learning, or at least a form of it. Hybrid learning, where you have a mixture of e-learning and in person learning throughout the week, is a popular option. While many students are eager to go back and experience school again, it is still different. Less students in class, wearing a mask, and social distancing are just some of the safety precautions implemented. Dr. Jennifer Lightford, a pediatric infectious disease specialist says, "It really shouldn't be a debate of getting kids back to school, but getting kids back to school safely." The risk of Covid being spread at school is very high, and is a huge factor in determining whether going back to school will be in the students best interest. While going back to school is still in the air for many people, one thing is clear: safety of the students and of the teachers will be the top priority and decision factor. 
    For a lot of students, going back to in person learning is not an option. Whether it be because their school decided to stay with e-learning, or because they do not feel comfortable with returning to school. Online learning can be a challenge, especially now during a global pandemic. A huge percentage of kids do not have access to the internet, or maybe learning at home with a lot of distractions is challenging for them. Doing online school is a huge hassle and causes stress for a lot of students. Lee Xiong, a student at Luther Burbank High School, feels the same. "School has been tough. Transferring to all online learning has been the biggest challenge this year for me. As a student, I'd say I've usually kept up with all my work for all my classes. The biggest change I've seen in myself is becoming less focused with my school work. Being in a physical classroom is tremendously different from learning online." Not being motivated or being too distracted to do school work is a huge bulk of the problems students are facing with e-learning. Still, some kids prefer e-learning over in person learning. A Washington Post survey found that 80% of parents want school to continue to be online. They fear the risk of contracting covid while at school, which is understandable. Giving parents, teachers, and the kids the choice of either returning to school or continuing with online could help alleviate some parent's worries. 
So, the debate continues. Should kids go back to in person learning, or should they continue remote learning at home?
Sources:https://www.google.com/amp/s/www.nbcnews.com/news/amp/ncna1233550
https://mobile.edweek.org/c.jsp?cid=25920011&item=http%3A%2F%2Fapi.edweek.org%2Fv1%2Fblog%2F100%2Findex.html%3Fuuid%3D80723